SERVICE offers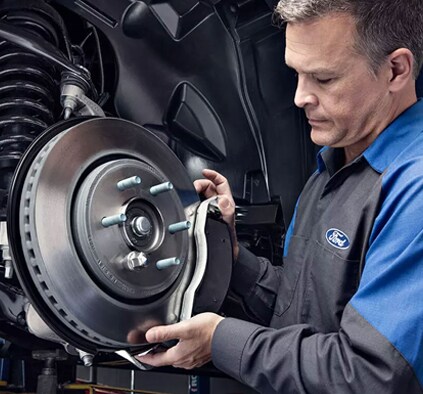 Ford Brake Pad
Replacement Special
$30 OFF
per axle
on any Complete Motorcraft Brake Service
SERVICE HOURS
| | |
| --- | --- |
| Monday | 7:30AM - 5:00PM |
| Tuesday | 7:30AM - 5:00PM |
| Wednesday | 7:30AM - 5:00PM |
| Thursday | 7:30AM - 5:00PM |
| Friday | 7:30AM - 5:00PM |
| Saturday | 7:30AM - 4:00PM |
| Sunday | Closed |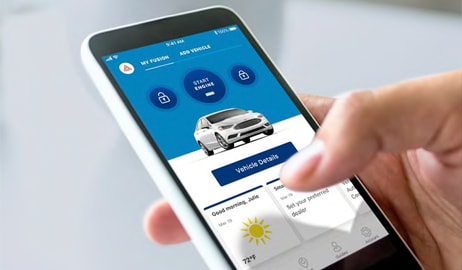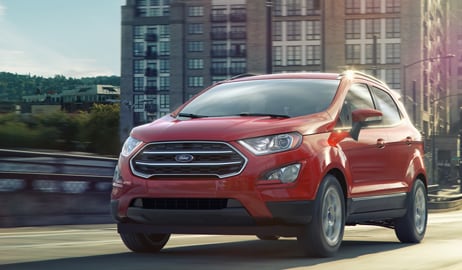 The Sounds and Signs that Indicate You Need a Ford Brake Pad Replacement: Colonial Ford of Plymouth is Here to Help
It's no secret that Ford scheduled maintenance keeps your SUV, sedan, minivan or truck running smoothly. Beyond Ford oil changes and tire rotations, over time, your vehicle will need a Ford brake pad replacement Plymouth. This is a necessary repair that may creep up on you if you're not heeding the warning signs.
Ensure that your treasured Ford vehicle is in optimal shape by allowing the highly-skilled technicians at our Ford dealership in Plymouth to thoroughly investigate your brakes and determine if a Ford brake pad replacement Plymouth is necessary. Our goal is to not only provide the TLC your vehicle needs, but also premium customer service you deserve. When stopping in at our Colonial Ford of Plymouth service center, you'll find that we take pride in customer satisfaction.
That begins and ends with offering our valued customers the know-how they need to recognize that it's time for a Ford brake pad replacement Plymouth.
You Notice a Vibrating Sensation: When driving your Ford SUV, truck or luxury sedan, do you notice a vibrating sensation when you apply the brakes? If you do, it could indicate that it's time for a Ford brake pad replacement Plymouth. After making your service appointment conveniently online, the team at our Ford dealer Plymouth will thoroughly inspect your vehicle to determine if it's time. As an added bonus, we also offer a Ford brake pad replacement coupon Plymouth so you can save more and drive off the lot feeling good about the service at Colonial Ford of Plymouth.
You Hear a Clicking Sound: Part of the appeal of a Ford vehicle is the barely-noticeable sound of the engine. However, if you're driving along and start to hear a clicking sound, heed the warning. When a Ford brake pad replacement Plymouth is necessary, it is possible for hardware under the hood to come loose and rattle, resulting in a clicking sound. Schedule service and save with a Ford brake bad replacement coupon Plymouth today.
You Discover a Squealing Noise: Have you noticed that when you apply the brakes, a sharp squealing sound emerges? Even if the sound is faint, it's time to schedule a service appointment to see if you need a Ford brake pad replacement Plymouth. This sound could stem from wear and tear of the brake pads and metal that is grinding on the rotor. Make your way to our Ford dealer Plymouth, MA, and save on a Ford brake pad replacement Plymouth.
Tell-tale signs that you need a Ford brake pad replacement Plymouth can be easy to miss. That's why Colonial Ford of Plymouth strives to provide you with the 411 you need to know. We also provide premium customer service and a Ford brake replacement coupon Plymouth to show our appreciation for your loyalty. Don't delay - make your service appointment today for a thorough inspection of your brakes and brake pads.
WHY Service at Colonial Ford

  State-of-the-Art diagnostic machines and computerized equipment
  Extensive inventory of Genuine Ford parts and accessories ( if we don't have the right part needed to service your vehicle, we will buy it from another dealer in our are and complete your repair at no additional charge to you)
  We service ANY make/model vehicle
  Comfortable waiting room with magazines, fresh coffee, Cable television.
  Free WIFI in building
  One-Stop full service detail center
  Daily rental for our customers at competitive rate
  Competitive pricing on all repairs and service.
  Our advisors will work with you to find cost effective solutions to repairing our vehicle.
  Convenient Real Time Online Appointment scheduling 24 hours a day, no need to wait for a response.
  1 Year warranty on repairs.